Mother Medicine – "Courage to Rise"
In August of 2011, The Earthstar Creation Center set sail on what would be a truly unique, inspirational & enlightening voyage.
"It is beautiful to see when purpose aligns with passion and Spirit provides all the means necessary to manifest a dream into the world."
Our dear friend Matthew DeMeritt contacted us regarding the possibility of a rather unique opportunity to produce a session unlike any I had experienced before.
Before going into any detail about the session, I must introduce Psalm Isadora, (Tantra Yoga teacher, unstoppable force of nature) who would be the leader of the event (for lack of a better word) known as Mother Medicine.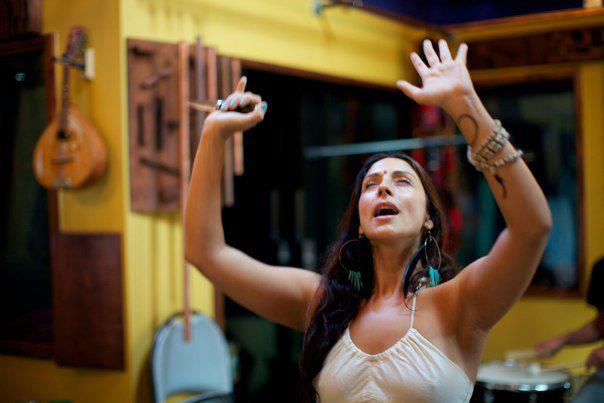 Mother Medicine was developed through a Primal Core and Women's Leadership program with Psalm Isadora and her nonprofit organization, Courage to Rise. Although far more, detaied info can be found on their website, the mission statement of Courage to Rise is as follows:
1. To host women's empowerment circles with concrete tools of yoga and transformational breath work to heal emotional wounds, blocking our power and to reclaim the sacred feminine energy that lives in our bodies.
2. To train women teachers who in turn form and lead circles in their own communities and around the world.
3. To create awareness and advocacy around women's issues through the story telling of the documentary: Shakti.
4. To connect communities with access to more resources to areas where suffering is more prevalent.
*******************
Mother Medicine songs began when Psalm Isadora was traveling to teach Yoga classes and Women's Empowerment workshops in America and in rural areas of India as a service project. Psalm was initiated and asked to teach Tantra by her guru, Sri Amritananda. Her classes and talks blend yogic philosophy, tantric goddess worship, Sufi and Christian mysticism. Besides that, she is a truly incredible spirit. When I refer to her as an "unstoppable force of nature", that is truly understatement.
"The first medicine songs were shared with groups of women sitting on dirt or concrete floors, the only instruments were the clapping of hands."
This was a revival of singing the names of the Mother Goddess and a resurrection of the Sacred Feminine in living women. Psalm opens all her classes with these songs to invoke the energy and presence of the Mother Goddess, chanting names for Kali and Durga, the fierce mothers of unconditional love.
"Psalm believed that there needed to be a balance in the world of bringing back the ancient medicine of worshiping the Mother Goddess."
Essentially, a group of beautiful women chanting, singing, exalting the names of the Mother Goddess to the beat of a lone drummer (Brock Avery). What could be better?
On the day of the session, as the women began to arrive, you could feel a wild, magical energy throughout the building. All of the windows fogged up almost immediately. Once the music and singing began, it went through the roof – between the women singing, stomping, dancing, shaking and Brock's tribal drumming, it became obvious that a mystical and powerful force had taken over the place. There was a lot of joy and power in that room. I have played many a show with Brock, but I have never seen him look so happy, not to mention the energy that was exuding from the women, which was intoxicating.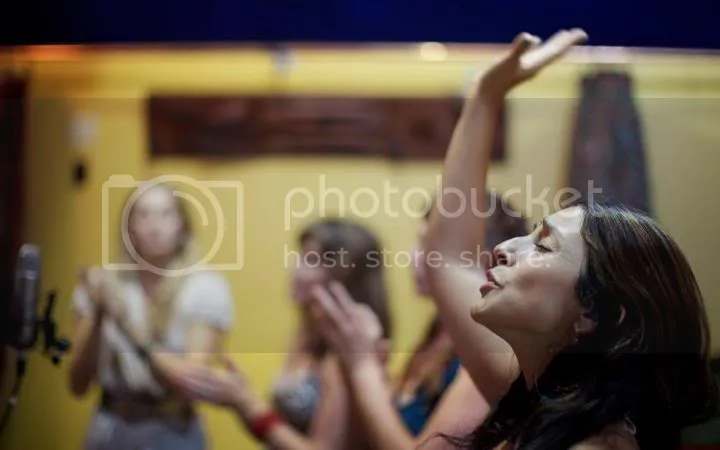 Mother Medicine's sound is a modern and urban blend of chanting and eclectic world music reflecting a variety of international cultures to inspire sacred trance dance.
The vocals and drumming were all done live, in one room, at one time. To try to accomplish something like this in any other way would be the equivalent of expecting an avalanche to stop at a traffic signal. Although many of the people involved were not "professional" singers, it did not matter. This one was all about the spirit.
"By singing names of the Goddesses who represent the qualities of mothers, lovers, warriors and jokesters, we awaken the energy for deep healing and cultivate acceptance for ourselves and each other."
Psalm was joined by Gigi Yogini (Yoga Teacher, Performance Artist, Self-Expression Therapist and International Adventure Specialist) and Kathryn "Katy" Green amongst the crew of Mother Medicine. Katy performed a beautiful piece called Panchadasi, accompanied by Gabriel Logan Braun on digiridoo. I do not have all of the names of the others, affectionately known as the Shakti Sisters, but I am guessing that there were about 12 women, each of whom contributed their own magic and energy to the event. There was an appearance on the last day of recording by singer/songwriter Shylah Ray Sunshine, who was joined by Mother Medicine (on backing vocals) for her song "Existence"
From this amazing group of people came the CD: Mother Medicine "Women Are the Medicine for the World" benefiting Courage to Rise
It was a wonderful and enlightening experience. One which will never be forgotten or overlooked. All of us at Earthstar look forward to doing this again soon!
*********************
In this blog, I have only scratched the surface of the mission statement and goals of Psalm Isadora, Mother Medicine and Courage to Rise. Please follow their links for an in depth look into the great things they do for the world, for the fun they have while doing them and for many more photos!