The birth of Earthstar Creation Center – it was founded by Michael and Rebecca Vest who had a dream of a creative space — an adult playground — where they could explore the spiritual side of music. One too many noise complaints at their home and they started looking around Venice for a space to convert to a recording studio.
Enter John X, whose house had recently collapsed due to years of subsonic vibrations. Michael and Rebecca proposed the creation of a new palace on the Westside. Stronger. Louder. Better.
We scoured the world until we came upon the current location. Then the fun began…
Groundbreaking took place on April 1, 2010.
We recruited renowned architects Ian McIlvaine and Victoria Yust of Tierra Sol Y Mar, along with contractor Rod Paavola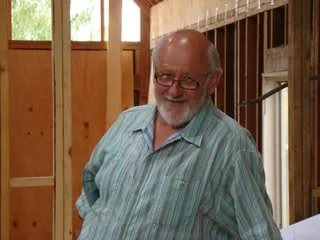 and acoustician "Pirate" Jack Vieira to help create the sonic temple. We knocked down the walls and raised the roof beam high! It was a long and challenging process, but we made it. To help the guitarists, we added a "clean" power line and new transformers. William Jenkins (formerly from West LA Music and an old colleague of JX) designed and wired the Control Room and patch bay, while Audrey Weichman of Electricia Studio Services and her team took care of all of the wiring from the Live Room, the Green Room and the Vocal Booth into the Control Room.
Thus sprang the Earthstar Creation Center, where it appears that a Viking, a mermaid, and a mad scientist joined forces to visualize a dream. Fairies and good spirits abound. We have been having a blast here and we hope you can join us on one or more of our cosmic sonic journeys.
All aboard!